About Us
At G for Gelato, we strive to bring you the tastiest, freshest and finest Gelato in Toronto. We are not afraid to explore new flavours while also keeping true to the classics. When in season, we source our fruits and vegetables from local farmers and markets. Have an idea that you'd like us to make? Ask us! We're always open to suggestions.
But we don't just make delicious gelato; we have gourmet thin crust pizzas, made with our own dough recipe. Our fresh foccacias and frittatas are made every morning. Join us for a light breakfast, lunch or dinner. Whatever the occasion might be, we'll be sure to put a smile on your face.
Location: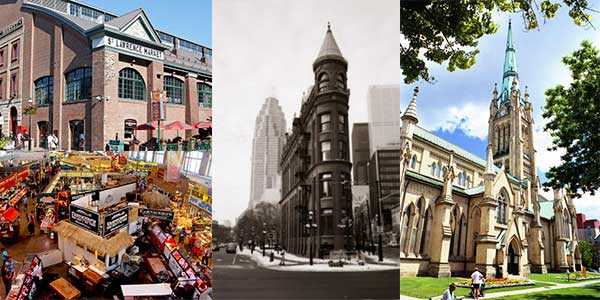 Across from historic St. James Cathedral and Park, G for Gelato is located at the corner of Jarvis and Adelaide.
Surrounded by hotels, this touristic neighbourhood is also home to St. Lawrence Market; North America's largest farmer market.
Close by is the flat-iron building, another historic building located in the famous St. Lawrence District.
We're also a short distance from the CN Tower, Rogers Center and Air Canada Centre.
Whether you're in town for business or pleasure, be sure to come have a taste of traditional italian food, and "The Best Gelato in Toronto!"
What's the difference between gelato and ice cream?
Gelato is just the Italian word for ice cream, right? Is there really any difference between gelato and ice cream?
If you've ever visited Italy, you probably experienced creamy, delicious gelato. And maybe you assumed that the only reason it seemed richer and more intensely flavored than American ice cream back home was because you were enjoying it on the foot of the Spanish Steps in Rome, rather than on your couch back home.But there are actually a few main differences between gelato and ice cream.
But one thing ice cream and gelato do have in common: you won't be able to resist just one more scoop!
What is gelato ?
Gelato is the Italian version of ice cream. It is generally denser and has less fat than American ice cream. It also has a more intense flavor due to having less air whipped into it during production. The fruit versions of gelato are made with water in place of milk and are called sorbetto, though these versions are often sold in gelato shops or labeled as fruit gelato when produced by commercial companies.
Serving size and calories
A single serving of gelato or sorbetto is 3.5 oz. and contains 120 to 170 calories, depending on the flavor and other ingredients such as fresh fruit or nuts. The calories in gelato are far lower than those in a serving of conventional ice cream. Gelato shops also traditionally serve gelato in more reasonable serving sizes than American ice cream shops. While an ice cream shop may consider one scoop 4 to 8 oz., gelato shops often serve in traditional 3.5-oz. scoops.
Fat
In milk-based gelato, there are 4 g to 8 g of fat per serving. Sorbetto versions have 1 g or less of fat. Compared to American style ice cream, which has 18 or more grams of fat per serving, gelato has a much lower fat content. This is because gelato is made from milk instead of cream. Slightly more than half of the fat in gelato is saturated fat, and it contains no trans-fats. The lower fat content compared with ice cream is what makes gelato flavors more intense, since they are not overpowered by the flavor inherent in fat.
Carbohydrates and protein
Gelato contains 30 g to 45 g of carbohydrates per 100 g, about 75 percent of which is sugar. Sorbetto versions are higher in carbohydrates, with up to 65 g per serving, mostly made up of fruit sugars. Milk-based gelato is high in protein, with 4 g to 5 g per serving, while sorbetto has little protein.
Micronutrients
Gelato made with milk is high in calcium, containing approximately 100 mg of calcium per serving. It also has high levels of potassium and vitamin A and low sodium content. Fruit flavored sorbetto varieties are generally made with real fruit and contain vitamins and minerals derived from the original fruits. Fresh nuts in gelato can also boost micronutrient content.
Considerations
Gelato is generally considered to be healthier than a similar amount of American ice cream. For those who cannot eat dairy, some gelato versions are made with soy milk, and sorbetto contains no dairy at all. Sugar-free versions, often made with Splenda, are also commonly available.